Visit the Bronx Zoo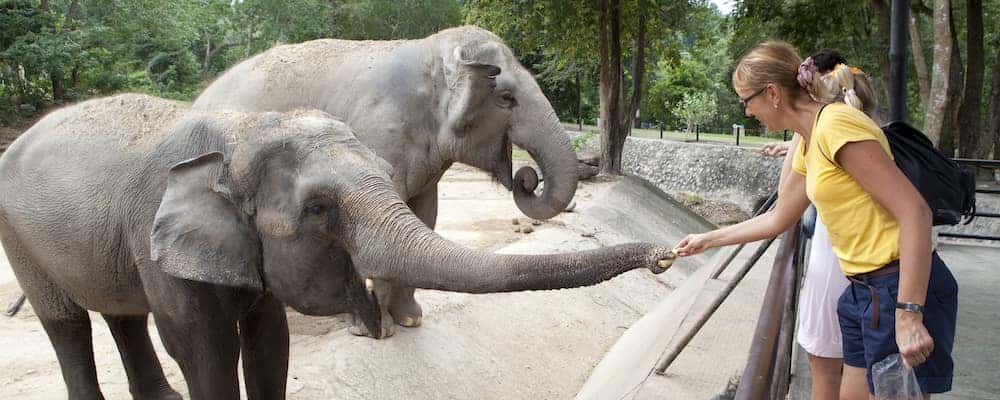 Looking to get away from the hustle and bustle of the city? A visit to the Bronx Zoo might be just the thing to revitalize your spirit. Here at Victory Mitsubishi, we're big fans of the fun atmosphere, amazing animals, and relaxing wooded setting, and we think that you will be too. Learn more about the Bronx Zoo tickets, exhibits, and programs before you go.
Bronx Zoo Tickets
The Bronx Zoo is located at 2300 Southern Blvd, within Bronx Park, and consists of 265 acres of lovely parklands and thoughtfully designed natural habitats. The zoo is open daily from 10:00 a.m. to 4:30 p.m. Here's the general admission ticket information:
Adults (ages 13 and above) – $28.95
Children (ages 3 to 12) – $20.95
Seniors (ages 65 and above) – $26.95
Children ages 2 and under can enter for free
General admission to the Bronx Zoo is free on Wednesdays.
Bronx Zoo Exhibits
There is so much to see and experience at the Bronx Zoo, with exhibits ranging from the Sea Lion Pool and Tiger Mountain, to the Baboon Reserve and Reptile World. We've chosen just a few of our favorite attractions:
Congo Gorilla Forest – Gorillas are fascinating, and in this wonderful exhibit you can see them up-close as they play and interact in their outdoor habitat.
Aquatic Bird House and Sea Bird Aviary – Caribbean flamingos, Magellanic Penguins, and tufted puffins are just some of the beautiful and exotic birds on display.
Madagascar! – The wildlife found on the island of Madagascar includes some of the most unique and rare creatures on the planet. In this exhibit, you'll have the opportunity to see ring-tailed lemurs, Nile crocodiles, Madagascar tree boas, and more.
Himalayan Highlands – The mysterious snow leopard is the main attraction here. This majestic and magical big cat is listed as Vulnerable on the ICUN Red List of Threatened Species, and the global population is estimated at only 10,000. Being able to see them up close is a thrill.
Bronx Zoo Programs
The Bronx Zoo offers a wide array of programs that are specially designed for children, teens, or adults, as well as programs for visitors of all ages. From teen internships and summer camps, to the Bronx Zoo Nature Club and an Evening with the Flamingos, there are many opportunities to learn and explore the wonderful world of animals. The zoo can also host birthday parties. Contact them at 800-433-4149 to learn more.
Get Local with Victory Mitsubishi
A visit to the Bronx Zoo is not only fun, but it's also a great way to find out more about the remarkable creatures that we share this planet with. Here at Victory Mitsubishi, we're always looking for interesting places to go and fun things to do in the Mount Vernon and New Rochelle area. Stop by one of the best pizza spots in the Bronx or one of our favorite Mount Vernon restaurants on your way home. Heading to the Bronx Museum of the Arts for your next family trip? Get help planning your visit in our guide!
We hope that you'll take time to stroll through the Bronx Zoo, and when you're ready to upgrade your Westchester commute, visit our dealership and take a look at our terrific inventory of new Mitsubishi models. Please feel free to contact us if you have any questions, are looking to learn more about used BMW 5 Series models, or want to learn about more local places to visit such as the best gyms in the Bronx.
More from Victory Mitsubishi
Available in four different trim levels, the top of the line Mercedes-Benz E-Class is one of the most luxurious vehicles on the Mount Vernon roads. Each trim level packs plenty of tech and performance features that are sure to elevate any drive around Bronx. The experts at Victory Mitsubishi can provide all the information you need…

The 2019 Porsche Cayenne is the pinnacle of luxury and is offered in four different trim levels. These Cayenne configurations offer something for everyone, and include all the standard features you've come to expect from the brand. Let's learn more about the Porsche Cayenne trims below with the experts at Victory Mitsubishi in Bronx. If you…

The 2019 Land Rover Range Rover Sport configurations provide Mount Vernon with all the performance and safety features they have come to expect from Land Rover. This impressive SUV is available in up to six trim levels and is one of the sleekest vehicles on the road. Check out the available Range Rover Sport trim levels…